A FOX and Friends Feature on Find Your Grind
Nick Gross, founder and CEO of Find Your Grind, talks to FOX and Friends on how Find Your Grind helps high school students prepare for their futures.
Watch below to see the full interview.
An outstanding response, from across the nation
Schools and district inquiries flooded Find Your Grind immediately upon the interview airing. The demand shown from educators across the nation has been incredibly strong, and teams are working tirelessly to support new inquiries from district superintendents, principals, and educators.
Please contact us to learn more about Find Your Grind and to see a demo.
Find Your Grind's National Presence
The 2021-2022 school year was Find Your Grind's first year in the market with our new personalized learning product, that prepares students for their future.
"With a presence in over 30 states across the United States, and an ever growing team across the country, Find Your Grind is in our strongest position ever to scale our partnerships and continue to add value to hundreds of districts across the country."

Nick Gross, Find Your Grind CEO
This global presence map shows how Find Your Grind has built a vast national presence. Going into the 2022-2023 school year, our adoption is continuing to grow at an incredible rate.
Our US team continues to expand to support customers across the country, and you'll see us at the following education conferences in the US that are coming up. Reach out to us to arrange a meetup if you're in attendance:
September: Ohio: OESCA Conference
October: Virginia: ACTE Region II
October: Magnet National School Conference
October: Florida: Council of the Great City Schools
October: Illinois: SEL Exchange
November: IEI Hilton Head, SC
November: Georgia: GSCA
November: Florida: 2022 AMLE Annual Conference
December: Nevada: ACTE CareerVision Conference
Skateboard Careers: Tony Hawk guides students through a professional skateboarder career
Check out the GOAT Pro skateboarder, Tony Hawk, an innovator in modern vertical skateboarding!
We humanize career exploration by featuring real humans doing real things. Our mentors provide candid advice on how they got started and the steps to get there.

NICK GROSS, FOUNDER + CEO, FIND YOUR GRIND
Tony Hawk gained status as a pro skater by age 14. He often says that his success was unexpected. Growing up, he simply viewed skateboarding as the perfect combination of creativity and athleticism and as an outlet for himself. After graduating from Torrey Pines High School in 1986, Tony Hawk grew committed to learning about others and diversifying communities through a shared love of the sport. He often gifts boards from his own collection to aspiring skaters and sometimes even coaches younger generations of skaters.
In 2002, he created the Tony Hawk Foundation in response to families that expressed frustration at the lack of safe public spaces to skate. The organization has since helped open nearly 600 skateparks across the United States and provided funding for programs in Afghanistan, Cambodia, and South Africa. And, in May 2020 it was announced that the Tony Hawk Foundation will be partnering with the Find Your Grind Foundation to build a brand new skatepark in Detroit in 2021.
To learn more about how Find Your Grind mentors humanize career readiness and career exploration, contact us.
Lifestyle First: Understanding the Contributor lifestyle
The world is fast-changing, so let's shift away from a traditional mindset of life + work.
Our curriculum, rooted in Social Emotional Learning and reflective practice, helps learners develop greater awareness, gain exposure to careers and industries, and begin the process of designing their ideal lifestyle.
The Find Your Grind curriculum focuses on shifting the traditional mindset.
We've been taught to think of the job we want, acquire those strengths, then somehow fit in our lifestyle around that job.
Instead of answering the question, "what do you want to do when you grow up?" Let's start answering the question "who do you want to be?"
This mindset shift all starts with Flipping the Funnel and getting to know yourself—what lifestyle you want to live, what strengths you have, and what job matches both.
The Contributor Lifestyle
Learn how Contributors play a critical role in making projects and big plans come alive.
Contributors work best when collaborating with others. While they have incredible talents, they are sometimes more comfortable in a supportive role or behind the scenes. Contributors are critical to teams, projects, and initiatives because they are skilled at identifying exactly what is missing to give something the finishing touch. This means that contributors often support more than taking the lead.
Contributors are selfless team players with a utilitarian mindset. They care most about filling gaps and adding to an excellent finished product, as opposed to their own agenda.
Lifestyle Insights
Every learner who experiences Find Your Grind takes our proprietary Lifestyle Assessment multiple times throughout the curriculum. We've collected thousands of responses from learners, and Contributors represent 1% of learners that use Find Your Grind.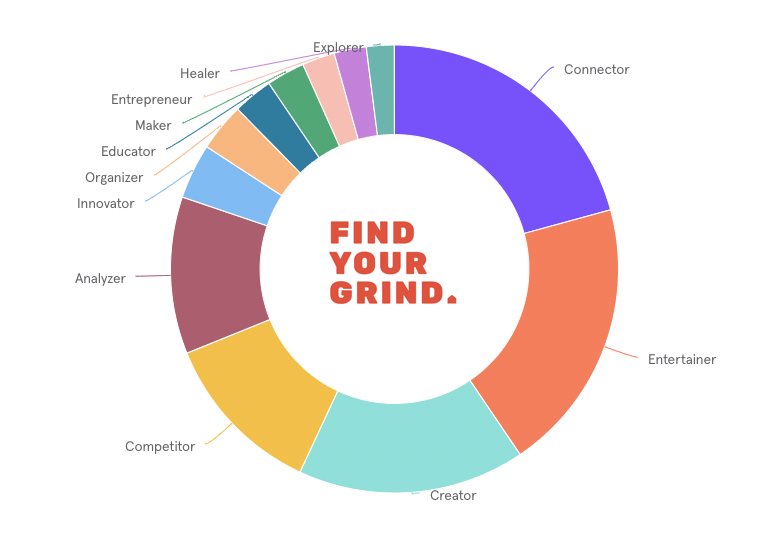 All learners using Find Your Grind receive a personalized learning experience unique to them, and for the Contributors they'll experience careers and mentors that are more highly associated with this lifestyle, resulting in greater learning engagement, and improved learning outcomes across the four capabilities that the Find Your Grind Future Ready Framework deliver on – Self Awareness, Social Awareness, Career Awareness, and Action Awareness.
To read about the learning science and research that supports our curriculum and learning outcomes, please check out our research section here.
---
To learn more about how Find Your Grind lifestyles improve career readiness and career exploration, contact us.
Nutritionist Careers: Sheela Mahdavi guides students through a nutritionist career pathway
Interested in a career in nutrition? Check out how Sheela lives and loves her life as a nutritionist.
"Food heals." That's the mantra of nutritionist and school health aide, Sheela Mahdavi. It's a philosophy that became relevant to Mahdavi when she was diagnosed as "pre-diabetic" as a teenager.
Instead of relying on medication, Mahdavi began experimenting with how different foods made her body feel, swapping out processed or blatantly unhealthy items for fresher, more nutritious options.
To learn more about how Find Your Grind mentors humanize career readiness and career exploration, contact us.