May 5, 2022 | Jay Stansell
Alabama State x Find Your Grind Arrives!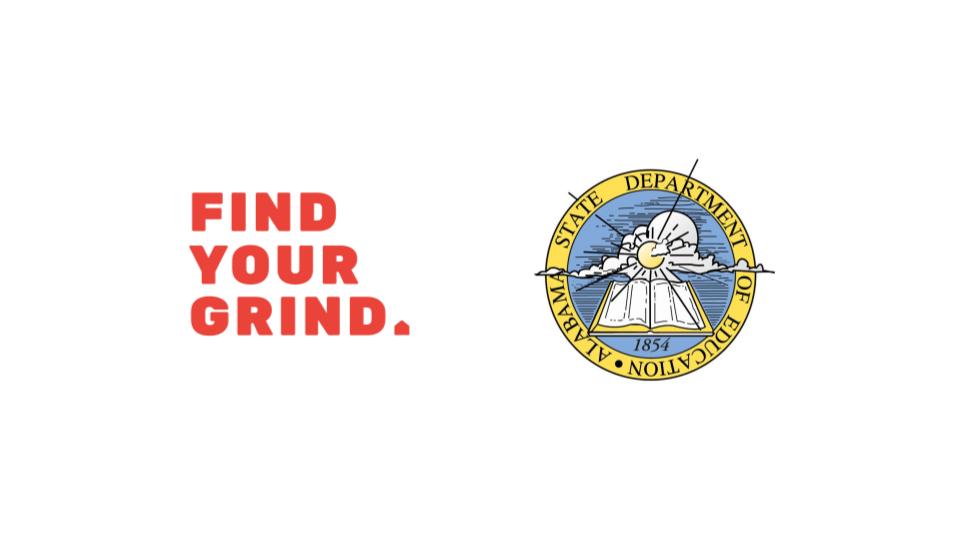 In March of 2022, the Alabama State Department of Education (ALSDE) invited providers to participate in a formal request for comprehensive, evidence-based summer learning programs. An ALSDE review committee that included representation from the Alabama Mathematics, Science, and Technology Initiative (AMSTI), Alabama Reading Initiative (ARI), Educational Technology, English Learners, Federal Programs, Instructional Services, and Special Education Services utilized a rubric aligned to the criteria outlined in the Request for Information – Alabama State Department of Education (alabamaachieves.org). The review process included opportunities for committee members to review each of the submissions, determine if the minimum requirements for each area were met, and consider if the program aligned with the Every Student Succeeds Act (ESSA) Levels of Evidence.
Find Your Grind is excited to announce we are among the select list of curriculum providers that are approved for the Alabama City and County Superintendents of Education to purchase, using available state and federal funding to purchase comprehensive programs or to meet the needs of supplementary areas.
Find Your Grind delivered what Alabama was looking for across all factors…
As part of its review process, the committee considered, among other factors, the following:
• General Program Structures
• Research-Aligned Program Structure Components
• Staffing Assistance
• Student Recruitment Assistance
• Family and Community Outreach Assistance
• Technology-Related Components
• Academic Components, including High-Quality Instructional Materials
• Alabama-Specific Features, including support for the Alabama Literacy Act implementation
• Alignment to ESSA Level(s) of Evidence

Eric G. Mackey
State Superintendent of Education
---
If you're an Alabama public school and would like to learn how Find Your Grind delivers on these educational needs, please contact us.
---
Why Find Your Grind was highly regarded by the Alabama State Department of Education
Find Your Grind takes learning science and outcomes-based learning seriously, and the Alabama State Department for Education set high standards to meet. Find Your Grind demonstrates exceptionality across many factors, including:
Pre and Post-program analysis including qualitative and quantitative data
Evidence of alignment to at least one of the top three ESSA evidence-based practice tiers (strong, moderate, or promising)
Correlation to Alabama Course of Study Standards
Cross-Curricular Connections and/or Real-World Connections
Progress monitoring reporting for students, teachers, and parents
Ease of implementation of digital resource(s) for student learning activities
Editable and/or "Ready-to-Use" lessons and samples for the program, weekly, and daily scheduling, including hands-on practice with materials
Whole group and targeted small group instruction focused on academic and/or social and emotional skills
Progress monitoring materials and processes
Lesson plans for staff that provide cross-curricular thematic units
Accommodations and/or modifications to support students with disabilities, English Language learners, and other
Wraparound student support services
How the program will provide STEM-Related instruction and enhance student learning experiences
Planning support for smaller class sizes of no more than 15 students per teacher to support strong individualized instruction and assistance building relationships in academic and enrichment periods
Assistance with the site administration or oversight of the summer learning program
Alabama public schools can now confidently ensure they are meeting these standards by purchasing Find Your Grind for their summer programs.
Find Your Grind offers a quick and easy onboarding and implementation solution for Alabama public schools and features curriculum options that can support any summer programming structure.
If you're an Alabama public school and would like to learn how Find Your Grind can best support your educational needs, please contact us.